Grrrrr!!! It has taken me two days to post this.
Good morning all. Another cloudy day here but much warmer than it has been. Now this kind of weather I can handle. :)
Yesterday (Sunday) we had a fun, full day. Took off to Aransas Pass and over to the ferry that took us to Mustang Island. The ferry ride was a real
hoot. In the first pic we have just driven onto our ferry and another one is coming in from the other side. In the second pic we are on our way across.
The island is pretty much a rich tourist attraction and where the affluent live (or visit). We did see lots of RV parks but have been told that the salt air damage is much greater from the island than we would get here.
The most important part of the trip was...... (drum roll...!!!!!....) THE OCEAN!
We finally made it Deb. hahaha And here's proof.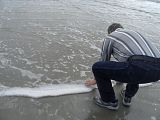 It was kinda chilly and windy so the beach didn't have very many people. We did drive along it for a bit and saw a tug boat pulling an oil barge into shore.
No dolphins tho. Sadness :(
We stopped for lunch at a fish shack. Interesting place but way to expensive for what we got. Of course Don had a cow about the prices. hahaha I had fried shrimp and oysters with FF and Don had fish instead of oysters. Food was good. The place sold trinkets etc. and had a back room that looked like they also sold fresh fish. And a big black lab that pretty much had the run of the place. Yikes! (Health Dept???) He was very well behaved tho.
We then drove down the island till it turned into the North Padre Island and then drove over about a (5??) mile bridge to Corpus Cristi. Now I have to admit.....and I don't know what I was thinking....but Corpus is much larger than I expected. Duh!!
Hey we did pretty good. I had printed a map before we left and..... Only got lost once!
We have now decided that we weren't really lost..... we wanted to go downtown anyway. ;) haha
The trip back was pretty uneventful. All tho we did drive back on a road that we hadn't been on before so that was interesting. I wasn't quite ready to call it a day so we went back to my favorite spot. (the fishing wall by the beach) Watched some fishermen... and the gulls.... and the big white pelicans bomb diving for food.
Then we decided to check out the Aquarium. Ummmm yeah there really was 2 big aquariums inside. And a couple of oyster boat hulls and signs etc. At least they didn't charge to get in. Donation only. We can now scratch that off our list.
So that was our big day Sunday. hahaha It only took us a month to get around to it.
What are we going to do today? you ask.
I think we're going to check out a different place to buy groceries. WooHoo!
Have a great day everyone.