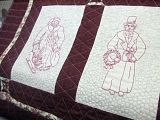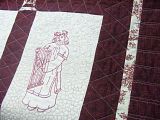 I am ready to put the binding on this Old World Santa quilt.
It seems like it took me forever to get it off the frame. I have learned something new from working on this.
I LIKE to do ruler work!!
I don't have the *real* rulers or correct foot for my machine...but I found a small wooden ruler and I just held it against the back of my hopping foot. It worked pretty well and I found I really like working with a ruler. Now I'm going to order a few and see if I can find the right foot for my machine. So many toys....so little time.
I've also realized (after working on this quilt) that I really really like to do panto's best. But since a bigger machine isn't in my future just yet....I'll have to be satisfied with my Juki.
It's a rainy day today. I just checked and so far we have .74". Soft and slow. The spring flowers love it.